Back to Info Center
Pet Urn Sizes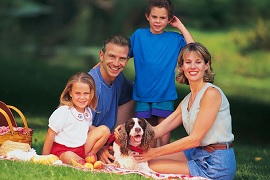 There are truly no words that can help ease a broken heart when it comes to the loss of a pet. While many may feel that the loss of a pet is a minor occurrence, and that the pet can easily be replaced, that is simply not so. We often become emotionally attached to a pet, as we would to a close friend or even relative, as they provide a steadfast source of comfort and companionship. Our furry (or scaly) friends become integrated into our lives, and often, are so perceptive, they even know exactly what mood we are in, and how they should react to us. When we are upset, they give us room to rant or breath, or even offer a caring shoulder to lean on. Alternatively, when we are happy or excited, they are there to enjoy and celebrate the moment with us. Moreover, they can quickly become a large part of our daily lives, considering the time that we set apart to feed, walk, and play with them. Pets can even cause families or individuals to become closer, as they all often pitch in to care for the pet, or enjoy sharing their experiences with the pet with others who have firsthand knowledge of the pet's character. With that said, it is no wonder that a companion's loss is greatly felt when they must, unfortunately, leave our side. The sadness and grief that ensues the loss can seem truly unbearable, and the fact that the companion that we would usually turn to when we are needing so much comfort is no longer there can make it seem all them more painful.
It certainly goes without saying that nothing can ever replace a pet that has passed away, but a wonderful remembrance of them can help heal the heart over time. With a final remembrance of the pet, we not only celebrate their lives, but also the moments of our own lives that we were privileged to share with them. Also, a permanent remembrance helps create an area that is dedicated to the memory of the pet, and no matter how small the area may seem, it will be a big comfort because it offers us a place to pay our respects to the pet, or even, simply reminisce of the memories they left us. For those that have selected cremation as the form of disposition, there are a variety of pet urns that can capture the spirit of the pet.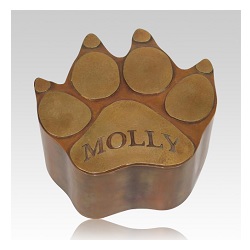 When it comes to considering the size you will need for a pet cremation urn, experts say you should follow the same rule of thumb used in the memorial industry for humans: you need one cubic inch of urn space for each pound that an animal weights. With that said, it is also suggested to add ten cubic inches to the converted size, to ensure that the urn will accommodate the pet's essence. For example, if you have a pet that weighs 30 pounds, we would recommend an urn that held at least 40 cubic inches. This rule of thumb is designed to assure that, in the vast majority of cases, an urn that you order will be larger than you need to accommodate all of your pet's remains. In other words, it leads to a conservative estimate.
While the one-pound-per-cubic-inch rule is usually very reliable, occasions will arise when it is not quite accurate. To protect yourself in such situations, it is best to make absolutely certain of your urn seller's return policy before placing an order. Most reputable memorial establishments will be happy to accept a return, and offer you a full refund or credit, if you discover only after receiving the urn that it is too small. Two common conditions for such returns are that the buyer will pay for the return shipping and that, of course, the ashes may not have been placed into the urn. (The latter is especially important, as many states prohibit by law the return of used cremations urns of any type.)
Another thing to consider if you discover that your pet's remains will not fit into your urn is the reliability of the establishment that conducted the cremation. While cases are rare, some unscrupulous pet cremation operators have been known to cremate many pets at once, mix the ashes, and then divide them evenly among the various pet owners. In some cases this arrangement is known in advance to the pet owners, but in others, the owners are led to believe that the remains they receive are entirely of their own pet. If your crematory returns you many more ashes than you were expecting, this could be a sign of foul play. A quick, friendly check of the crematory's background (with the Better Business Bureau, local veterinarians and even state regulators) may be in order before proceeding.
If, despite assurances from memorial industry experts that the one-pound-per cubic-inch rule is almost always adequate, you desire a more thorough estimate before ordering an urn, you can use the following steps after you have received the ashes from the crematory to achieve a precise measure of how big your pet's urn will have to be:
First, measure the depth and width of the temporary container provided by the crematory. (A common size is 4.25" depth and 6" width.) Open the temporary container so that you can see the ashes (if you are uncomfortable doing this, do not be afraid to ask a friend or even a crematory employee to do it for you). Measure from the bottom of the container to the top of the ashes – which are often packaged in a separate plastic bag. Multiply the measurement in step 2 by the depth of the container. Then multiply that product by the width of the container. Your result will be the number of cubic inches required for the ashes.
Finally, you should not be worried significantly about buying too large of an urn. It is quite common for pet owners to buy urns that are 50, 70 cubic inches or even more for pets that weighted even under 10 pounds. Also, if the urn that you select turns out to be too small, an option is to purchase a second, smaller keepsake urn, or even pet keepsake jewelry, which will hold the remaining ashes. Some families even scatter the remaining ashes in a favorite place shared with a pet, such as a park or beach, to leave a small part of them to enjoy their favorite area for all eternity.
The bottom line with this consideration is to simply buy the urn that you want, the urn that will suit your needs for properly memorializing your beloved pet. The size of the urn will, more often than not, be no factor at all.
When a beloved pet dies, it is only natural to want to memorialize this great friend with a tribute that can be displayed in a special spot. And in today's world, traditional headstones and other grave markers for pets – though still available and somewhat common – are being replaced by much more practical pet cremation urns which can be placed on permanent display, say, right near the beloved's favorite part of a home. But pet cremation urns bring with them a lot of questions, particularly about the size that one would need purchase. Below is a guide to some of those questions.
In what sizes are pet cremation urns available?
Those searching for a cremation urn for their beloved friend may be surprised to learn that a huge variety of urns are available – much more than is typically found in the stock or catalogs provided by veterinary offices (who arrange for most pet cremations done today). A quick search for the internet will show that pet cremation urns are as varied as those intended for human remains. (And in fact, many cremation urn makers design pet urns to match certain styles of their human urns. This is comforting for those who may want to be assured of eternal companionship with a beloved pet.)
In general, pet cremation urns are available in two varieties whose equivalents are widely available as human cremation urns too. They are as follows:
Individual pet cremation urns are intended to hold all of the cremation remains of a pet, and keepsake pet cremation urns are smaller versions of these individual urns. The keepsake urns are intended to hold just a portion of the cremation remains of a beloved animal. Many pet owners will obtain more than one keepsake urn so that the remains can be shared with multiple people who loved the pet. Also, it is common to scatter a portion of the ashes in some special place and to store the remainder in a keepsake cremation urn.
What size urn should I select?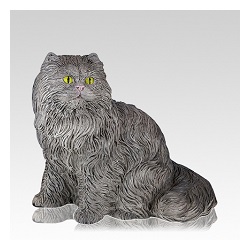 Whether you choose a keepsake pet urn or an individual pet urn is, of course, up to your discretion and needs, but, within those two broad categories there a variety of sizes are available. You will likely find it comforting to know that most pet cremation urn retailers will divide their selections according to species, so customers can be confident that all urns in, say, a "cat" category will be large enough to accommodate the cremation remains of just about any cat. Likewise, most dog categories are further subdivided according to species of dog.
For those who may be worried that cremation remains of their pet may not fit in even the largest urn intended for their category, a helpful rule of thumb applies. The volume of an urn, in cubit inches, is usually readily available from a retailer. Pet memorial industry experts use this helpful rule: one cubit inch of urn space is need for each pound that an animal weighted. If, for example, an animal weighed 30 pounds, any 30 cubic inch urn (or larger) would be sufficient for holding all of the remains.
What help is available for choosing the right urn?
Customers with questions about choosing the right size urn for a beloved animal should not be afraid to consult a retailer's representative or their veterinarian. It is important to know that, in the vast majority of cases, purchasing an urn can be done before a cremation has taken place; the remains can be transferred to the owner's choice of urn at any time. Transfer of the urn is a simple process that can be be done by the pet owner herself or, if she is uncomfortable with that, she can ask for assistance from just about any veterinarian's office.
What options are available if I choose the wrong size pet urn?
Only in very rare cases will the rule of thumb mentioned above not guide you to the correct urn size, but, if you should discover that you do not have enough room in your pet cremation urn for all of your friend's cremation remains, there are plenty of options. First, if you have not yet filled the urn with ashes, you can usually return the urn to the retailer and select a larger one. Also, you can simply purchase a keepsake pet urn to store the overflow of ashes (some individuals purchase a keepsake either way, so they have a small part of their friend close at all times). You might then share the keepsake urn with someone else, for whom the pet was an inspiration and friend. And, finally, you can choose to scatter the overflow of ashes in some special place (no permits or special permission are typically required for this) and store the remainder of the ashes in the pet cremation urn you have selected.