Back to Info Center
Children and Infant Cremation Urns
There is nothing more tragic or painful in life than losing a child. Parents are torn with feelings that can vary from of course grief, to anger. With the loss of a child, we almost feel as we have also lost hope for the future, and the thought of living without them is no less than unbearable. This all stands with great reason. Infant and children urns capture a spirit that was, perhaps, best put forth in the book Let Us Now Praise Famous Men by famous American writer James Agee. Not necessarily talking about infant and children urns, but nevertheless, saying something very relevant to them, Agee eloquently notes: "In ever child who is born, under no matter what circumstances, and of no matter what parents, the potentiality of the human race is born again: and in him, too, once more, and of each of us, our terrific responsibility toward human life; toward the utmost idea of goodness, of the horror of terror, and of God."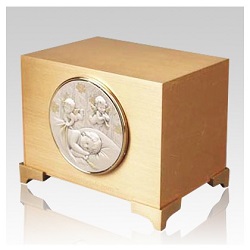 Infant and children urns are perhaps the most tragic product offered by the memorial industry, but they are also, probably, the most necessary. It is often mor than tempting to focus on the loss and, sometimes, the child's loved ones can even lapse into an anger toward God Himself. This is well understood, as the family is looking for a reason for the loss, or at least to understand why. While in some cases these questions cannot be answered, it is an inevitable and sad fact of life that time cannot be reversed to change our fate. As noted before, the pain is certainly justified, but the search for a proper child urn can greatly help not only the parents of the departed, but also their whole family. While we may feel that there is no comfort in any aspect of handling the affairs after losing a child, many actually find that looking for a child cremation ash vessel can bring help bring a sense of closure, or at least distraction from the grief at hand. A properly selected urn will help a parent feel like the child can be laid to rest in a dignified and peaceful final resting place. Alternatively, the design of these specially made urns reminds us of the child, which helps with the fear of feeling like the child will be forgotten over time. While a person can have this initial fear, the urn's design can serve as a strong and unwavering symbol of the child or infant. Infant and children cremation urns come in a variety of designs, and many can find an urn that suites even the age of the child. The designs range from sweet teddy bears, to elegant floral themes, to even simple yet dignified vessels that are properly sized for a younger person. A peaceful design, such as that featured on the urn to the right, will help soothe the spirit by reminding us that the child no longer feels any pain, or fear, and is in a place of peace, even though they cannot be here with us. Furthermore, adding an elegant memorial quote or verse to an urn is quite possible for many of the designs, and can help us remember that we should not mourn the loss of the child, but instead, fell blessed that they were ever in our lives to begin with, even if only for a fleeting moment.
Infant and children urns can help people avoid that misdirection to feelings of only grief and misery, and instead, help us focus on the things that Agree talks about. It is certainly true that every birth of a child is, in effect, a hopeful rebirth of the human race. And an early, untimely death does not change that. It's the latter that is sometimes difficult for some grief stricken souls to remember. But, nevertheless, it's true, and infant and children urns can help serve as a constant reminder of that true love that will survive throughout the ages.
Most infant and children urns are decorated in the playful, hopeful scenes of childhood; the same scenes that, in other contexts, capture the most uplifting spirit of man. By juxtaposing those happy scenes filled with hope and love into something that might, at first glance, appear to be a reflection of a tragedy, infant and children urns serve as a constant reminder of Agee's contention that mankind is born again with great potential at every child's birth. The designs of these urns are truly meant to remind us of the brilliant spirit, unending love, and ultimate connection that a parent feels with their child, rather than the tragedy of losing them. If a child has to be lost, it is our duty to remember and pass on the positive memories of that child, and the designs of these charming urns are meant to do just that. So, the infant and or child's untimely death need not be tragic after all. Infant and children urns remind us that, even though a child has lived a shorter life and most everyone would have liked, his or her coming into the world even if only briefly forever changed mankind in a positive and hopeful way.
Mankind has, as Agee notes, a "responsibility" to remain focused on this hopefulness in the wake of the tragedy that makes most infant and children urns necessary. And infant and children urns are a great help in keeping the focus on that. If man delves into the desperate anger toward life, or even God Himself, that is often tempting at the loss of a child, then he is not focusing on The Truth. And The Truth is that, every part of life even the most difficult of circumstances such as the death of children and infants can be more hopeful than tragic. With their uplifting, happy themes, then, infant and children urns can always keep us on track, reminding us that, even in the darkest days, a hopeful light is always with us if we just focus upon it.
For those who have suffered such a tragic loss as that of a child, we here at Memorials.com would like to offer our deepest of condolences, and sincerely hope you find healing and peace through these difficult times. We are certainly happy to answer any questions, or provide any assistance necessary, and all of our contact information is readily available on our Help page.
See all your Infant and Children Urns choices