Back to Info Center
Keepsake Urns

A Small Remembrance with Great Significance

Many families who have lost a loved one know the profound comfort found in holding onto a personal belonging of the deceased. Many families keep personal mementos, such as jewelry, favorite articles of clothing, even locks of hair can bring a feeling of soothing peace. Usually, the more personal the item, the more comfort is gathered from it. Keepsake ash urns can be a great comfort to many, because they hold a small amount of cremation ashes, or other small articles for families who chose not to cremate. While holding onto a personal belonging of a person does bring great comfort to many, others are finding that actually having a small part of the person - their essence more or less - is an even greater comfort than just a personal belonging. A couple of the many reasons that many are finding more comfort in being able to have a small amount of the remains for themselves is that the bereaved feels that the loved one that has passed is there with them in a way; others find that having something new to hold, that is still as much a part of the deceased as anything else, is easier to cope with than a personal belonging, that may in fact be more of a reminder that the person is gone, than it is a comfort.
Uses For Keepsake Urns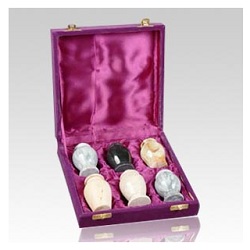 Today keepsake urns are used for many different reasons. Keepsake urns are vessels that are usually smaller than most average-sized cremation urns, and are made to hold a small amount of cremated remains, the locks of hair, or even dried funeral flowers or earth from the grave site. While almost any small memento can be placed into these urns, the most popular use for keepsake cremation urns are to hold a small amount of ashes of the person they are meant to memorialize. Often times, families will even utilize keepsake urns to share a small part of the cremation ashes with fellow family members. For example, siblings could purchase a few keepsake urns, or even a set of keepsake cremation urns, such as the set to the right, so that each person can take a small part of the ashes. On the other hand, family members that are scattered around the states, or even around the globe, can divide the ashes into keepsake urns that each family member can take, rather than have the ashes in one large urn, that can only stay, of course, with one person. For those who are scattering the ashes, keepsake urns can be used to keep a small portion of the person's remains close. This is a great comfort for many, especially when the remains are to be scattered or even interred, as the keepsake can serve as a reminder that the person who has passed will never truly be lost, because they are here with us in our hearts and memories. Because of their small size, often families who have a large urn sometimes purchase a few keepsakes so that they can place them around their home, or even in other locations, such as their office. Being able to have a small, visual remembrance of their loved one is enough to bring comfort to the family, so they keep a small keepsake urn in different areas of the home, usually places the deceased favored, such as in a den, living room, or bedroom. Sometimes keepsake urns are even used for small pets, if a person cannot find a pet urn that suited the personality of their late companion.
Materials & Styles of Keepsake Urns
Keepsake urns come in a variety of different styles, and are made from all types of materials. Smaller, less expensive keepsakes can be made from materials such as brass or even native woods. Other keepsakes are made of expensive materials, such as bronze, alabaster, or even rare woods like burl or poplar to name a few, but these of course, are usually significantly more expensive. Some keepsakes are even hand made by artisans from materials such as glass or ceramic, while others are made from biodegradable materials such as paper or rock salt, for those who are planning on keeping a majority of the cremated ashes, and scattering just a few in places that the deceased loved. The styles of keepsake urns is as versatile as the materials used to make them. There are keepsake urns that are made to look like miniature versions of their full-size counterparts. These usually feature classic designs, such a s a vase shape or plain square or rectangle. Other keepsakes are made to look like small sculptures rather than urns, and can feature ornate carvings or pristine details. Other keepsake urns are made from materials that are made to take personalization, such as cultured marble for example, and can be etched or engraved with a small image, verse, or simply a name or initials. For those looking to personalize their keepsake urn, it is important to take not of the size of the vessel and whether or not it can be personalized, because a lot of these keepsake urns tend to be quite small. For those keepsake urns that cannot be directly personalized, there are easels that can hold engraving, and be displayed beside or in front of the keepsake urn.
Choosing a Keepsake Urn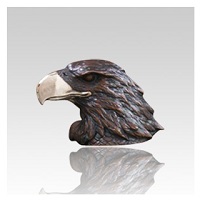 Choosing a keepsake urn can be as daunting as selecting a full size urn for many. The best way to select an urn that you feel will full fill your needs is simply to take into account your own personal preferences, as well as the personality of the person the keepsake is to memorialize. Take into account the deceased's favorite colors, hobbies, events, or even their personality. For example, for a person that loved the beach or maritime sports, there are several urns that feature nautical themes, from a baby turtle hatching from an egg, to a wooden keepsake with a scene of a sailboat gracefully passing by. For those who were more patriotic, there are keepsake urns for you too! The urn to the left is a wonderful example of a keepsake urn that is made to suite a patriot, while still looking elegant enough to be displayed in any location. This urn is also a wonderful example of a keepsake urn that looks like a sculpture, rather than a cremation vessel. For those who were more serious, a simple plain keepsake would be ideal. Usually keepsake urns made from natural materials, such as wood, marble, or materials that are stylized to look like natural materials, such as cultured marble, are quite affordable, and hold an air of dignity. Handmade keepsake urns usually feature vibrant, highly ornate colors and designs, making them perfect to memorialize anyone who was of a free spirit and open mind. We have even had customers in the past who select a keepsake urn that blends in well with their present decor, making the keepsake a visual remembrance of their loved one that is easy to see, but still not a heavy reminder of grief or sadness. As said before, keepsake urns are made out of a variety of different materials, and feature a great selection of different designs. Because of the vast selection to choose from, it is safe to say that almost anyone will find a keepsake urn to suit their needs.

Whether selecting a keepsake to share remains, or simply keep an essence of your beloved close at all times, Memorials.com offers a wide selection of keepsake urns at unbeatable prices.
See all your Keepsake Urns choices