Back to Info Center
Urns made from Marble
Marble urns can feature modern or traditional shapes, and because no two urns will ever look the same, create tributes that are both timeless and as unique as the person they are memorializing. Below are a few interesting and important things to know about marble urns:
Why Chose Marble Urns?
Marble urns are the perfect touch for those who want to memorialize their loved-ones with a material that's about as old, and as natural, as the Earth itself. Marble is a beautiful stone that is formed when limestone metamorphoses due to heat and/or pressure, below the surface of the Earth. Only the natural processes in the earth can create marble, which can gives this material a sort of mystic appeal, as with everything that is not man-made or produced. Much more than simple storage containers for cremation ashes, marble urns are pure, classic, memorial elegance. For centuries, marble urns have been used to memorialize our loved ones because of the stone's natural beauty. Marble urns can take the traditional vessel, or vase, shape, or can even be sculpted into small sculptural masterpieces that are less abstract in their meaning.
Most importantly, for many people, marble urns offer the durability to assure that the ashes of their loved one are protected for centuries to come. With proper care, marble urns will typically keep their splendor for many generations, and the sturdiness of the stone assures that the urn's structure will even outlast the shine. That means the memories of people who are memorialized with marble urns can last about as long as the Earth itself. It is for this reason that marble urns may be most attractive for those wanting to preserve their loved-one's legacy for as long as possible.
How Are Marble Urns Made?
Whether the urn features a classic or modern appearance, marble urns are all made according to the time honored standards of classic construction, seen throughout history. For traditional vase-shaped urns, the marble is placed on a lathe, which rotates the stone at a high speed so that it can be grinded down to the desired shape. The urn seems to almost magically appear from the block of marble with this traditional method. The other main construction method, especially for pieces that feature flat faces, is to cut the stone into individual sheets which are adhered together to create the urn. The final main method of construction for marble urns is for an artisan to work the marble into a sculptural piece, although this method can be, understandably, much more expensive. These sculptural marble urns can either hold the cremated remains in the base that the form sits on, or in the actual body of the sculpture.
Pros & Cons of Marble Urns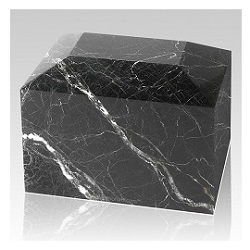 As with any other urn type, there are pros and cons to using marble urns. There are many benefits to using a marble urn to memorialize your lost loved one. Marble, is again, a very durable material, so when properly cared for, the lifespan of the urn can last for many, many generations. Because marble is a smooth, non-porous stone, it is very easy to clean and maintain, as opposed to other urns that are finished with a veneer or sealant. For the most part, a soft, lent-free polishing cloth is all that is needed for a standard 'cleaning'. The stone itself gives the marble urn a nice, hefty weight, which gives the overall piece sturdiness. And because marble is a 'soft' stone, it is very easy to personalize with text or image engraving. In fact, there is a manufacturer of urns that is famous for their elegant selections scenes and images that can be etched onto the marble urn, and can even etch a photo likeness of a person onto the urn. Since marble is a natural material, no two urns will ever be identical. Many see this trait of the stone as one of the beauties this natural material has to offer.
While, again, there are several benefits to using a marble urn to memorialize your loved one, there are a few cons as well. One is that, as mentioned above, marble is a 'soft' stone and will eventually wear away over time if left in the direct elements, such as rain, wind, or water, although it may be years or even generations before the erosion is visible. Think of the famous statue 'Venis de Milo' that has been weathered and even has lost it's arms over time. If planning on storing the urn in a garden or any other area where it would be in the direct elements, a harder stone for the urn, such as granite, is recommended. This is also true for urns that are to be interred. It is highly recommended for a marble urn to be buried inside of a cremation urn vault, otherwise the natural earth processes will affect the urn over time. While some people see the heaviness of a marble urn as a comfort, it may not be suitable for others who plan on handling or traveling with the urn regularly. And finally, marble is a natural material, so there is no way to control how the final appearance of the urn will come out. In other words, while one urn made of any certain marble shows heavy striations, or 'striping', another urn made of the same type of marble may have significantly less striations, or may even have a slightly different overall tint. Marble urns are truly for those who understand and appreciate the spontaneity of nature.
Care Tips For Marble Urns:
Marble is extremely vulnerable to exposure to acids such as citric acid and vinegar. Never use any acid-based liquids to clean your urn and keep the urn away from oils. If you use water to clean your urn, be sure to dry it completely. Stray water left standing will stain the urn.
How Can Marble Urns Be Displayed?
Marble urns are usually elegant enough to be displayed indoors and sturdy enough to be shared with the world outdoors, as long as they are in a sheltered area where the urn is not in direct contact with the elements, such as in a niche. This flexibility makes marble urns, perhaps, the perfect choice for any memorial need. Whatever their ultimate destination, marble urns are particularly appropriate for memorializing a loved-one because they can be personalized. Marble urns come in a variety of shapes and styles and can be enhanced in a wide variety of beautiful, luxurious colors. Marble's natural sturdy beauty keeps them looking bright and shiny for generations to come. Marble urns can be carved and sculpted into any number of scenes or shapes, and they often take the form of beautiful, elegant small statues that can pay lasting tribute to the people they memorialize.
See all your Marble Urns choices