Back to Info Center
Urns made from Metal
For many years, people have turned to metal as the material of choice for the coffins or caskets of their loved ones. The reason why any metal material is popular for such a purpose is because of its durability and longevity. Families can rest assured that their loved one has been laid to rest in a place that will keep them protected from the elements, and that will ensure a long and peaceful eternity. Many do not realize that metal urns offer similar advantages for families that have chosen cremation, rather than traditional burials. Metal urns are not only long lasting, they are also some of the most affordable cremation vessels on the market to date. That is not to say that all metal urns must be interred, or that they are of any lesser quality in appearance than other urn types. In fact, many metal urns are so decorative, they are appropriate for display in a niche or even in the home. Another marvelous advantage of having a metal cremation urn is the personalization options available. Metal rivals with wood cremation urns in the vast amount of design and style options that they are available in. From brass, to aluminum, to stainless steel cremation urns, there is a style and design that will suite most any taste, and meet most any need.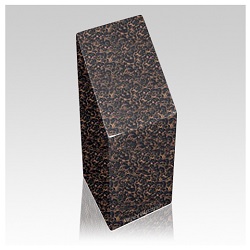 Metal urns are typically designed according to the traditional styles of ancient cultures, and it's these timeless styles, along with the long-lasting sturdiness, that give metal urns a unique connection with eternity. The classic vase shapes are augmented with modern touches, such as a brilliant and colorful enamel, or a elegant brushed finish, for an interesting combination of old and new. This simple play of design is enough to remind us how we are continually connected with our history as human beings. While classic vase shaped urns are among the most popular of designs in metal urns, there are several others, such as the cremation vessel to the right that is made of aluminum, that break away entirely from the 'traditional designs'. These elegant urns are not only interesting visually, but would perfectly embody a person that 'broke the mold' so to say. This particular urn is actually available in not only the copper finish shown, but also different metal and colored options (which you can explore by clicking on the photo to the left). This is a wonderful example of one of the many advantages that are offered by metal cremation vessels, which is that the material itself is so versatile that it can be formed, cast, or manipulated into an endless amount of designs. This is what gives the metal urn line its unique diversity in designs, and this is one of the many ways that a family can find an affordable, yet highly appropriate remembrance of their loved one.
Perhaps more than any other style of urn, metal urns can be confidently expected to remain intact for centuries, maybe even for millennia, and that assures that metal urns can be a secure vehicle for any loved-one's passage into eternity. It is interesting to note that, while urns have been in use since, almost the beginning of mankind's time on Earth, metal urns have only come about relatively recently. It has only been in the last 400 years or so that metal urns have come into popular use, and, while 400 years may seem like an exceedingly long time – in terms of eternity -- it's akin to a fraction of a second. So, relatively speaking, it's only recently that metal urns have given mankind such a secure, perfectly beautiful passageway into eternity.
Metal urns are designed to be among the sturdiest of all urns, and as such, bring to mind the following poem, entitled "The World" by the legendary English poet Henry Vaughan:
I saw Eternity the other night
Like a great ring of pure and endless light, All calm, as it was bright;
And round beneath it, Time in hours, days, years,
Driven by the spheres,
Like a vast shadow moved: in which the world
And all her train were hurl'd.
Metal urns will undoubtedly last for the ages, and the very metals that comprise metal urns are reminiscent of the shiny, bright, everlasting metallic look of most large objects in the universe. And the smooth surface of most metal urns makes them, indeed, as Vaughn says, 'calm, as at they are bright'. When families who have lost a loved one place their beloved's ashes in classically designed metal urns, they are invoking all of the beautiful images of eternity that Vaughan brings forth in his poem. Not only do these elegant vessels serve as a link from our world into the next, they carry on the essence of our loved ones through all eternity. A metal ash holder can be, more or less, or last physical link to our dearly departed, and they carry this honor with dignity. While metal urns may look simple – with the sleek, classic designs (which can be modified, by the way, to take on more modern styles while maintaining the overall connection to classic style) they help prove, as many philosophers have hinted over the years, that eternity is not as complex as it may seem at first glance.
As noted before, metal urns come in a wide variety of styles and designs, but they all maintain the traditional, classic look that has made urns, in general, a human tradition forever. Much like cremation itself has preservered in the face of obsticales over time, so will metal vessels do so to protect and preserve our earthly essence. So, in many ways, metal urns, besides being a passageway into eternity are also a connection with all that has passed before. (When Vaughan says, after all, "I saw Eternity the other night," he is not simply talking about the future. He is talking about all of time – past, present and future combined.) In fact, scientists say that, long before mankind walked earth – and long after, too – metal elements such as iron, steel, and even copper and gold will be, and have been some of the most common materials in the universe. That means metal urns have, yet another, connection to eternity.
See all your Metal Urns choices