Back to Info Center
Military and Veteran Urns

A Patriotic Tribute

When we think of those who serve our country, no one better characterizes our feeling for these selfless individuals than the famous quote by U.S. Army Officer and author George S. Patton, Jr.. Patton states, "The soldier is the Army. No army is better than its soldiers. The Soldier is also a citizen. In fact, the highest obligation and privilege of citizenship is that of bearing arms for one's country". As Patton states, there is no higher honor of one serving for their country, and there is truly no higher privilege for civilians than being able to say that these heroes are part of their family. When one of these brave individuals is lost, it goes without saying that a strong sense of responsibility is felt, to memorialize that person, and many are not sure how to do so. This is one of the many reasons why Military & Veteran urns are the perfect patriotic tribute to the brave Americans who have devoted their lives to keeping the country, and the world, free and safe. Military and veteran urns bring to mind another the famous quote, which has gone on to become an informal motto among many in the military, from America's first president George Washington: "To be prepared for war is one of the most factual means of preserving peace."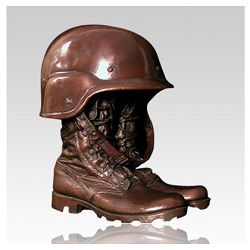 America's military prides itself on being ever-prepared for war, and that's a big factor in why Americans can rest comfortably most nights. It is a true shame that we often forget to give thanks for these individuals that have made sacrifices that most people will not be willing to make. The peace of mind that comes from a strong military is truly deserving of eternal devotion and respect. Military & Veteran urns provide just that, and so much more. These vessels for ashes are made from a variety of different materials ranging from wood to bronze, and into an array of different styles. While these ash urns usually do feature a military theme, the styles widely range from simple and elegant box-shaped urns that feature a military insignia, to elaborate yet stunning sculptures, such as that to the right, that bear no resemblance to a traditional cremation vessel. Simple cremation ash vessels create a honorable and dignified tribute, while the sculptural urns provide an elegant and discreet memorial. Other styles even feature a religious emblem along with the military insignia, which are perfect for those who selflessly held God and Country above all else. Whether you select a simple or elaborate military cremation urn, the urns are all made with a definite pride in knowing that it will one day have the honor of memorializing a true, modern day hero.
It is not unusual for families to wish to incorporate more remembrances with the earthly essence of thier lost loved one. In fact, many prefer to combine the two, being the final remembrances of the beloved, such as the burial flag, awarded medals and military coins, or even news clippings or letters. There are a variety of ways to create a memorial tribute that future generations can look through to learn of their heroic predecessor. Medallion Cases and military chests are one of our most popular tributary pieces that will allow the families to preserve many treasured remembrances of the lost individual together. For those who are looking for a final tribute that is a little more simple, such as the burial flag and cremation ashes, there are also many options available. Many of our flag cases can be elegantly displayed on a matching pedestal, which actually serves as a cinerary urn, and discreetly holds a set of remains. This offers a wonderful way protect and preserve both the final remembrance of the lost hero, as well as the beautiful burial flag. These are just a few more options to creating an unforgettable tribute to a lost soldier or veteran.
It is no coincidence that one of the more popular lines of military and veteran urns is named after George Washington, who achieved much of his fame as a General during the American Revolutionary War. These military and veteran urns are tall and white, reminiscent of the famous Washington Monument that now anchors one end of the National Mall in Washington D.C. This line of military and veteran urns also, of course, reflects Washington's overall attitude (as described in the above quote) toward the military. Once in office, Washington made establishing a strong military one of his chief objectives. He knew, as his quote suggests, that, even though Americans were not under necessarily an immediate threat from foreign powers just after the revolution, a strong military would be required to maintain the status quo. The military and veteran urns adopt that same idea. They are strong, simple structures that are eternally ready to promote the patriotic spirit of the solider within.
Military themed cremation urns are, of course, the perfect memorial for soldiers who have been casualties of war, but they are fitting as tributes to men and women who devoted large portions of their lives to the military. These special Veteran remembrances easily become a touching part of any memorial display aimed at capturing the undying patriotic spirit of a soldier. (And we all know, of course, once a solder, always a soldier.) Not only do these wonderful vessels conserve the memory of our fallen heroes in the present time, but they also become treasured heirlooms that are passed down from generation to generation, along, of course, with the countless tales of bravery and courage that accompany. There are even some urns that not only hold cremation ashes, but also display the burial flag for the soldier. Other models even feature extra room for medallions, photos, or any other memorabilia awarded to the soldier. These not only make excellent memorials of our loved ones, but hold and preserve all that they earned for the future to come.
Families, of course, want only the most fitting products by which to remember their lost loved-ones, and military and veteran urns, like all urns, certainly do that job well. But, further, military and veteran urns also are a touching memorial to the part of every soldier that all Americans can appreciate: the patriotic spirit. This brings to mind another of Patton's famous quotes: "It is foolish and wrong to mourn the men who died. Rather, we should thank God that such men lived." By capturing a soldier's love for his country and preserving it with his or her spirit forever, military and veterans urns do just that, making them, perhaps, the most important memorial product available in today's memorial industry.
See all your Military and Veteran Urns choices