Back to Info Center
Outdoor and Sports Urns

Memorializing Nature Lovers

Among those specially-themed cremation urns that are on the rise of popularity in the memorial industry are urns that feature a outdoor or sport theme. This is easily understood, as Outdoor and Sports Urns are the perfect way to memorialize any person who has spent his or her life with Nature. Several famous quotations from some of the world's greatest thinkers and naturalists are relevant to outdoor and sports urns. One example comes from Swiss Born American naturalists Louis Agassiz who lived in the nineteenth century. Agaissiz states, "The study of Nature is intercourse with the highest Mind...You should never trifle with Nature." Those who spend their life in the outdoors, or participating in an outdoor sport certainly understand the first part of this quote, and even if not, they especially respect the latter. This connection between the outdoors and God is especially poignant in terms of outdoor and sports urns. Outdoor enthusiasts, of course, are very close to nature and, what better way to remember them than with outdoor and sports urns that eternally capture Agassiz's famous idea that nature and God are one, and that those who love the outdoors also, by nature, love God.
That is not to say that all outdoor sport or nature themed urns exclusively respect any certain religious beliefs. Take into consideration the urn above, for example, which features a Major League Baseball (MLB) team theme. These urns are quickly becoming, if not already, among the most popular of all sport urns. Understandably, baseball certainly is more than just a sport or pastime for some, but is more a way of life, and any true baseball enthusiast would relish the thought of being forever memorialized in an urn that featured their team. As one customer told us "I've got the Yankees in my blood, and when my time comes, I'll rest peacefully knowing that I'll forever be known as a Yankees fan!" The thought of not only knowing what their final resting place would be, but of also knowing that it fully reflected their passion was enough for this customer to purchase the urn well before his time. MLB urns are again, quickly becoming one of the most sought after urns by baseball fans around the world for their whimsical and befitting design.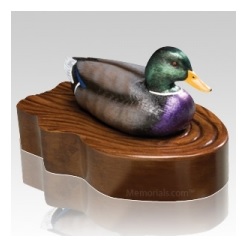 Other outdoor and sports urns are also among the most creative and unique urns currently available in the memorial industry. Far from the traditional Grecian-style or traditional cremation urn, outdoor and sports urns are molded into special shapes that reflect nature scenes. One of the most popular outdoor and sports urn models currently available is shown to the left and features a mallard duck gracefully floating on a base that is shaped into soft ripples of water. One could easily see how an urn such as this is more of a work of art, rather than a vessel made simply for the storing of cremation ashes. Passion goes into these urns, and it justly reflects that same passion that is felt when doing something a you truly love. Even simple, rectangular-box outdoor and sports urns with etched nature scenes are a great way to memorialize any nature lover, whether the person be a hunter, fisherman or even a birdwatcher or hiker. Many outdoor and sports urns feature scenes of people fishing, hiking through mountainous terrain, or simply sitting quietly in beautiful and natural surroundings. The ability of nature to create is certainly captured in these small works of art, and they bring the spirit that while one thing may be gone, the world around us is constantly evolving, and the hope of new life is all but inevitable.
Outdoor and sports urns also, of course, celebrate the lives of other types of sports enthusiasts, too. An incredibly popular new style of outdoor and sports urns is aimed at motorcycle hobbyists, for example. These colorful, unique outdoor and sports urns are shaped as motorcycle gasoline tanks, and have already been known to give many people reason to smile after losing a loved-one. The idea of a family member who was intrigued by motorcycles being able to spend eternity inside of one is a welcomed, happy thought for many grieving families. And it is brought about, of course, by outdoor and sports urns. Even the whimsical nature of the designs of these urns is enough to leave a smile on the saddest of person's faces as they remind us of the lively memories we have of the dearly departed. While these wonderful vessels are coined 'outdoor' urns, they are really more appropriate for those who participated in an outdoor activity. For those who simply loved nature, our natural memorials may be more appropraite. For more information on the nature-inspired tributes, please see our memorial rock article.
Whether the urn be a simple vessel painted or etched with a nature or sport scene, or an elaborate sculpture that no one would even guess is a memorial cremation urn, these urns create unforgettable and befitting tributes to those we love. They truly capture the fun, and unforgettable nature of the person themselves by creating tributes that are equally as unique. While it goes without saying that an urn could never replace a lost loved one, it does stand to reason that a properly befitting memorial will keep their memory and essence alive throughout the generations to come. Even at that, a cremation urn will become an heirloom of family history, and even without having ever met the person that has passed, the future descendant will certainly gain a 'feeling' of that person.
Agassiz, probably did not have major league baseball and hunting in mind when he made his famous observation about nature and God. But, since even man-made things are, in effect, created by God, his comments can certainly apply to any passion. To study anything seriously is, certainly, to connect with the mind of God. So, more and more families are finding that it is a good thing then, that the memorial industry has found a way, through outdoor and sports urns, for all who are passionate about a hobby to be remembered eternally in connection with that specific theme. These cremation urns are truly made to celebrate a life well lived, rather than focus on the grief felt from such a great loss.
See all your Outdoor and Sports Urns choices