Back to Info Center
Religious Urns
When a loved one is lost, there is a strong sense of negative emotions that most people feel, emotions like anger, regret, sadness, and possibly fear. Many people turn to, and successfully find, a fountain of comfort when they turn to religion in these troubling times. Religious urns are, perhaps, the best style of urns for families struggling with the, sometimes, difficult decisions surrounding cremation. By capturing a loved-one's religious spirit with uplifting, heavenly scenes, religious urns can help ease the discomfort that some family members can feel when a loved-one has decided to be cremated. Religious urns are available in a variety of styles, from Jewish religious urns to Catholic religious urns, and designed to assure those whose loved ones have chosen to be cremated, that eternal rest in heaven is certainly available for all souls. Moreover, even if the surviving family members are not as religious as the deceased, there is a certain sense of comfort in knowing the selection of the urn has met the person's final wishes.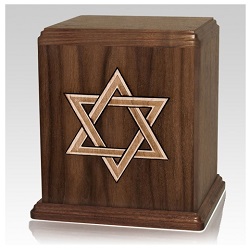 Religious urns, along with cremation itself, were once the subject of much controversy among the faithful of many of the world's religions. On of the many reasons was that cremation was not a suitable disposition of a human body, and some even saw it as sacrilegious. This all changed drastically over time, as many saw that there were several benefits to cremation, ranging from financial, to emotional, and during troubling times such as when the Black Death that struck Europe during the 14th century, cremation proved to be the most hygienic way of disposition. These are just few of the reasons cremation is widely accepted today, and in the latter part of the 20th century, cremation came to be accepted by the majority of religious establishments across the world. A common misconception is that the Catholic faith, for example, prohibits cremation. This is not true. The Vatican has approved of cremation since 1963, and many religious urns are now available in themes particularly related to the Catholic faith. The same is true of the Jewish and Muslim faiths, as can be seen in the urn to the right. (On a side, yet interesting, note, some faiths, such as Hinduism, cremation has long been commonly practiced and, in some regions of the world, even mandatory. Religious urns for these religions have long been a part of the culture. Although, in many cases, most of the ashes of a person are scattered across some sacred place, religious urns often house small bits of the ashes that can be permanently displayed as a memorial to the beloved person.) While religious caskets, or coffins featuring a religious theme, may seem to make more sense, or even seem more common, religious cremation urns are certainly become a noted staple of the memorial industry.
Nevertheless, many practitioners of those faiths that have now come to accept cremation as an appropriate form of final disposal remain uncomfortable with cremation for a number of reasons. Therefore, when one family member chooses cremation, his or her loved-ones may have an exceptionally difficult time with the grieving process. Religious urns can help with those feelings. Adorned with spiritual messages, pictures and themes, religious urns can serve as a reminder that most modern religious leaders have considered the question carefully and have come to the conclusion that cremation does not have a negative effect on the soul. In fact, because many religious urns are adorned with nature themes, as well as scenes that are blatantly religious, religious urns can often serve as reminders that cremation, despite its negative, frightening connotation – is as environmentally healthy as it is religiously acceptable. Religious urns often are designed to specifically capture the "ashes to ashes" theme that, for many, is as much an environmental concern as it spiritual.
Even the search for a religious cremation urn can be a great comfort for grieving families, as this process is one of closure. Families find great comfort when they come across the urn that they feel best encompasses the spirit of their loved one. The urn, in itself, whether displayed in the home, or in a niche, will forever stand as a pillar of faith, for we know that the person that has passed away is in a place where there no pain, or worry, or grief, but only peace.
According to several recent industry studies about attitudes toward cremation, many people are still afraid of cremation because they worry that a body feels pain from the burning, or that the soul is somehow destroyed in the cremation fire. Religious leaders say, today, that these worries are simply unfounded, and religious urns, have, accordingly, become one of the most popular types of cremation urns available in the memorial industry today, thanks largely in part to the changes brought on by the Funeral Rule. Regardless of how the industry evolved to offer these special vessels, they are more than appreciated by many families and individuals who have found great comfort in selecting a religious cremation urn to honor the final essence of the dearly departed.
See all your Religious Urns choices