Back to Info Center
Biodegradable Urns

Cremation Urns made from Green Biodegadable Natural Material

In our day and age, many people are rightly fighting to preserve our planet, either by participating in environmental movements which help promote sustainability, or by simply living a more environmentally-conscious life. Biodegradable Urns are a new and expanding part of the cremation urn industry that honors not only our Earth, but also anyone and everyone who lived to help protect and sustain it. Environmentally friendly urns may be seen as a new 'trend', but make no mistake that these earth-friendly vessels for ashes do provide a way for us to memorialize our loved one's while respecting the planet. Memorials.com offers its customers a vast, yet one of a kind line of Biodegradable Cremation Urns that feature a remarkable array of colors, patterns, and surface textures. Our biodegradable urns are made for scattering, at sea, or burial on land. Whether for a person that is down to earth and studious, or rambunctious and lively, there is a biodegradable urn to commemorate their life well lived.
Why Should I Get A Biodegradable Urn?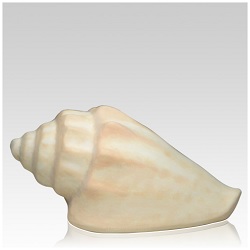 Many people have different reasons for using a biodegradable urn. One of the primary reasons is, of course, protecting our environment. Environmentally conscious individuals who are interested in land burial, but want to leave the most minimal carbon footprint possible, feel positive knowing that a biodegradable urn ultimately returns nutrients and minerals to the earth, while still preserving the land. For those who are interested in scattering ashes at sea, there are different styles of urns, that offer different options for dispersing the remains. For example, some urns are designed to open easily (usually a partial opening) so that the ashes can gently spread above the body of water. These urns can then either be discarded, or small, special mementos can be placed within to further commemorate the deceased. On the other hand, there are urns made from soluble materials, such as the urn to the right, which are intended to be placed directly into the water, after they are loaded with the remains. These urns then gracefully sink, and eventually break down, releasing the ashes as they do. One of our most sought after bio-urns is the sinking shell vessel for ashes, which as the look of a closed seashell and provides a beautiful way to pay tribute to a loved one who was always at home in the sea. Biodegradable urns not only help protect our environment, they come in a variety of styles and are designed to look like respectable, dignified memorials that can be worked into virtually any type of memorial service.
Do They Really Work?
All biodegradable urns are excellent for land or sea scattering and/or burial, and include a biodegradable bag for storing the cremated remains until the final scattering or burial. All our biodegradable urns are constructed to be sturdy enough to be handled (most can even be traveled with), and insure smooth removal and replacement of the lid. Urns for sea dispersions usually begin to descend within ten to fifteen minutes. Within approximately 2-3 days biodegradable urns will fully degrade. Ultimately, the biodegradable bag disintegrates and the urn descends until resting on the sea floor. For land burial, the biodegradable urn will completely disintegrate within a year or less; the actual amount of time depends on the climate and environment in which the burial occurs. Memorials.com recommends checking with your state and local laws before scattering or burying any cremated remains in one of these biodegradable urns, as laws will differ from state to state. In any case, if you are interested in a biodegradable cremation urn, the selection offered by us, Memorials.com, is sure to provide an urn to meet your taste and needs. Really, there are a few different varieties of biodegradable urns (even an urn that acts as a reef, which will not only protect your loved one's essence, but also provide a shelter for any marine life that finds it!), but they all share one common trait, and that is that they are made to provide an Earth-friendly way to honor our loved ones. For those who are interested in a 'green burial' but are not sure if cremation is for them, there are other options for earth-friendly burials, such as utilizing green caskets.
In What Forms are Biodegradable Urns Available?
Up to this point we have discussed two basic categories of marketable portable urns. Basically those include urns that are constructed to biodegradable continuum from a few hours to an upper scale to completely biodegrade within a maximum of three or four days. Indeed a third type of marketable biodegradable urn is expected to disperse cremated remains upon mother earth after centuries of protection from the elements of earth's harsh environment. So, if you wish to keep your loved one's remains at home, say above the fireplace on a mantle, this type of urn is for you! Planning on traveling with the urn? Since September 11, 2000 all commercial airline baggage and carry on luggage will have to pass the scrutiny of a team of airport transportation security administration (TSA) officers prior to boarding the aircraft. An inexpensive, biodegradable urn is sure to solve your boarding woes. Your relative's ashes will accompany you on the luggage rack near your seat in the airplane cabin because the cremated ashes within will have been seen through security x-ray technology, thus passing airport security muster.
See all your Biodegradable Urn Choices