Back to Info Center
Urns made from Bronze
For many centuries, bronze has been revered as one of the fundamental mediums in art, and has played an important role in the art community. Not only did the use of the material as a medium change the world of art, but bronze tools also revolutionized other fields of art, such as wood and stone working. This dynamic medium is of great interest for its stunning ability to capture exquisite details when it is cast, a feature unseen in other casting mediums. The versatility of the material also made it possible for artists to quickly reproduce a piece or work of art, which was extremely important in the days when most works were each individually hand sculpted. Aside from its versatile qualities, bronze has proven to stand the test of time as well, fairing much better than other classic mediums such as wood or even marble. One of the most famous bronze statues, Artemesion Bronze, is estimated to be from around the 6th century, but the origin and artist of this amazing masterpiece is still unknown. What makes this bronze statue particularly intriguing is the fact that is was not discovered, but recovered from the sea in northern Euboea, meaning it was found in the water. It is hard to believe that anything could be so resilient, especially against one of the most erosive elements in nature. With such a profound and timeless aspect, it goes without saying that bronze is one of the most appropriate materials for something that is meant to endure the ages, such as a cremation urn. With that said, Memorials.com has an extensive line of bronze urns from all over the world at unbeatable prices with free delivery. Demand for bronze urns has increased in pace, of course, with the dramatic rise in cremation. There are two basic types of bronze urns cast bronze urns and sculpted bronze urns. Bronze urns are some of the most beautiful urns available today, thanks to their incredible shine. Bronze is the hardest material available for urns today. Those urns reveal the expert skill of the craftsman, as each urn is a piece of art. Bronze urns can match the character they are designated for, from color to shape to style.
How Are Bronze Urns Made?
Bronze is an alloy made of copper and either zinc and/or tin, and is commonly used for sculptured urns; being the material of choice for many artists creating memorial urns and cast bronze urns. Most casting methods involve pouring liquid bronze into a sculpted cast of sorts, also known as a crucible. Bronze urns can be manufactured in a variety of ways, but the most common is by using either lost wax sand casting or standard casting techniques. Another popular method of creating bronze urns is to create flat sheets of bronze that are then cut to size, formed, and assembled to create a cremation urn box. The latter method is not as versatle as casting techniques, and is usually less expensive, but don't be thrown off for these beauties still feature many of the sought after qualities of the bronze, such as luster and durability, and are often ideal if you are looking for an urn that features a simple design. Often urns made of sheet metal bronze are displayed as is, with a simple engraving, or even sometimes feature a religious or military emblem.
How To Take Care Of Bronze Urns?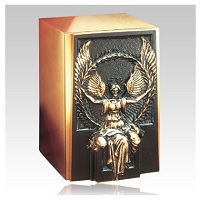 Bronze ash urns, for the most part, have a very basic method of caring to maintain the metal. First, we would like to mention that while bronze is durable enough to be displayed outdoors, the elements will affect the metal much more rapidly than it would if the urn were sheltered. Bronze urns will not rust, but when exposed to the elements they will darken and eventually gain a patina, which is actually one of the most sought after features of bronze for some, for it's rustic appearance. For those who do not wish for their urn to darken or gain the patina, we recommend displaying your urn in an area where it will not be exposed to the elements. In general, metal urns are not to be used outside, except for the bronze urns, and again that only goes for those who are aware of and desire the aesthetic features that bronze gains when it is exposed to the natural elements. There is not too much maintenance necessary if you are displaying your urn outdoors, except to dust it lightly here and there, and remove any larger debris that may collect on it. For those who wish to keep the ash vessel protected and extend the lustrous appearance of the piece, the best way to clean a metal urn is to dust it using a dry, lint free cloth; this will maintain and prolong the metal urns natural polish. We do not recommend cleaning the surface of the urn with any type of chemicals or even water, as this could have adverse affects on the finish.
What is an appropriate size for my Bronze Cremation Urn?
Our basic rule of thumb regarding the sizes of urns is: one pound of cremated human remains typically displaces 1 cubic inch of a space in most urns. Just as for urns of different materials, this rule does apply to bronze urns as well. The average human adult weighs between 130-180 pounds, therefore a standard size bronze urn, being 200 cubic inches, should adequately accommodate the remains of an average adult. In addition to the standard size bronze urn, a companion sized 400 cubic inch holding capacity should easily hold the remains of two average-sized adults that are looking to share the same bronze urn. A keepsake bronze urn is usually approximately 3 inches tall, each one perfect for the distribution of small portions of ashes or remains of one deceased family member to family members and friends of the deceased, or to memorialize a pet or child.
When someone thinks of a memorial, they usually expect for it to last a life time, if not longer. The same expectations should go for the memorial urns that are meant to house the earthly remains of our dearly departed. Memorials.com offeres a broad variety of bronze cremation urns that will not only last for all eternity, but will become a treasured and dignified remembrance for many generations to come.
See all your Bronze Urns choices