Back to Info Center
Urns for Two

A Companion Urn will keep you together Forever

With cremation becoming more popular throughout the world, the variety of cremation urns is the most extensive that it has been in history. Almost every year a new concept for a cremation urn is available, offering families a broad range of ways to commemorate their loved one's who have passed. One the most innovative concepts is an Urn for Two, also known as a Companion Cremation Urn, which is a vessel that has a capacity large enough to accommodate two sets of cremation ashes. These vessels provide loved ones with a way to spend eternity together. Most of these cremation urns are usually large enough to accommodate two people that are around 200 pounds in their healthy weight, and some even feature different designs, from a single, vase-shaped vessel with no compartments, to urns with compartment options, and even highly detailed sculptural urns such as the urn above. These urns not only provide a way to keep two sets of cremation ashes together, but also provide many with peace of mind in knowing that they will remain together long after they have gone from this world.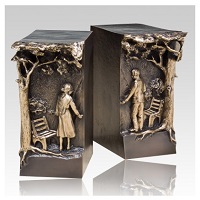 Companion cremation urns are made from a variety of materials, and into a variety of different shapes, sizes, and designs, and the selection is almost as extensive as that of individual sized urns. The styles of the urns can usually be broken up into three main categories: Single vessels, vessels with compartment options, and split vessels, in which the to individual vessels come together to create the image of one cremation urn. A great example of a split vessel companion urn is shown on the left. There is no rule of thumb regarding the compartments in an urn. Most families are happy to put both sets of the cremation ashes together into a single compartment cremation urn, while others prefer to keep the sets of cremation ashes separated. This is entirely a matter of personal preference. The urn to the left is a great vessel for those that wish to keep the cremation ashes separated, but would not be ideal for those who wish to mix the cremation ashes. When deciding how to place the ashes into the urn, always remember to honor the wishes of the dearly departed before making a final decision.
While many think that urns for two can only be utilized when both persons have passed away, that is simply not true. Many people who have lost their significant other are comforted by the idea of a cremation urn that is ready to accept their ashes as well, when the time comes, of course. The thought that they will one day be forever united with their beloved can bring great peace of mind, and may even help in the grieving process. Urns for two can also help many families through their grieving over lost parents or grand parents, and, with that in mind, they are reminiscent of two very relevant quotes from famous thinkers of days gone by.
First, the legendary Helen Keller said the following of memorials: "What we have once enjoyed, we can never lose … All that we love deeply becomes a part of us." This is a testimonial for urns for two (although inadvertent, however, because urns for two are a relatively new creation of the modern memorial industry; In Keller's day, urns for two – or urns and cremation in general -- were not as commonplace in Western societies as they are today). In many companion cremation urns, a couple's ashes are mixed directly together, allowing the couple to be, truly, together forever. This is a beautiful way of assuring that "all that we love," truly does "become a part of us", thanks to urns for two. Couples who are united in a companion cremation urn are, indeed never lost upon from each other. This beautiful concept, again, can be greatly reassuring to those facing the loss of a loved one, and eventually, the inevitable.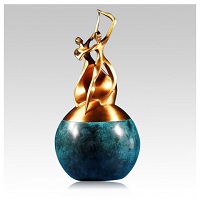 Our second quote is more in reference to the survivors of the deceased. Late nineteenth and early twentieth Austrian writer Franz Kafka discussed in his diaries that children are often interested in thanking their parents properly for a job well done. Urns for two can help with this final show of gratitude to those who gave their all for us.
"Parents who expect gratitude from their children (there are even some who insist on it) are like usurers who gladly risk their capital if only they receive interest," Kafka said. That quote expresses, perhaps, a bit of capitalistic cynicism about the relationship between parents and their children, but it nevertheless gets to the heart of the spirit that urns for two are made for. By memorializing their parents forever, together in a companion cremation urn, the children and grandchildren of any beloved couple can indeed, pay back, with eternal interest, some of the love that their elders poured into their upbringing. It goes without saying that a family will feel great comfort in knowing that their loved ones will be forever united, as most children wish their parents to be. This is also a wonderful way to pass on that shared love to future generations, as most companion cremation urns inevitably become family heirlooms. To pass down such a wonderful tribute not only passes on our heritage, but also the hope for everlasting and eternal love.
Urns for two are a special way of keeping loving couples together forever. Most urns for two can be personalized to serve as tributes to the individual lives of each member of the couple, while also highlighting the fact that, together, the memorialized couple was at its spiritual and most sacred best. With a cremation urn for two, you can not only memorialize your lost loved ones, but also the love that they shared.
These beautiful oversized ash vessels are a special, mystical tribute to those all important words that every married couple repeats on its wedding day: "Until death do us part." Thanks to urns for two, even death can amount to only a temporary parting for those couples truly in love. One can argue that urns for two are truly the most touching of all cremation urn styles.
See all your Urns For Two choices